CÓMO MATIZAR CABELLOS RUBIOS SIN TINTES -HOW TO GET PLATINUM BLONDE HAIR FT ROSEGAL
martes, mayo 16, 2017
Llevo al menos 6 años con el cabello rubio, y créanme que no ha sido fácil, especialmente por ese odioso color naranja que suele aparecer en la melena luego de unas cuantas lavadas, ¿les ha pasado? Esto me enojaba tanto que simplemente optaba por oscurecerlo. Yo no sabía cómo tener un rubio platino impecable, pero luego de probar y probar, encontré la solución y estoy fascinada. Cada vez que salgo las chicas me preguntan cómo hago para tener un rubio como este y hoy les contaré cuál es mi secreto.
I've been at least 6 years with blonde hair, and believe me it hasn't been easy, especially because of that hateful orange color that usually appears in the hair after a few washes, has it happened to you girls? I was so angry that I just chose to darken it. I didn't know how to have an impeccable platinum blonde, but after trying and trying, I found the solution and i am so fascinated with. Every time I go out the girls ask me how I do to have a blonde like this and today I will tell you what is my secret.
Olvida los tintes matizantes, ¡hay algo que funciona mejor! /
Forget the nuanced tints, there is something that works best!
Antes de encontrar la gran solución a mi cabello amarillo pollo, solía invertir mucho dinero en tintes matizantes que aunque funcionaban, su efecto era demasiado efímero, tanto que unas dos lavadas de cabello eran suficientes para volver al naranja...
Before I found the great solution to my yellow chicken hair, I used to invest a lot of money in nuances that although them worked, its effect was too ephemeral, so much so that two hair washes were enough to return to the orange ...
Decolorar el cabello con la esperanza de lograr un tono blanco y terminar con el cabello más naranjoso que nunca...
Esa es la historia de mi vida antes de encontrar el producto que me ayudó a lograr un rubio impecable, recuerdo las veces que decoloré mi cabello y ver aquél resultado tan "chillón" simplemente me ponía de cabeza, y no, las peluquerías no son lo mío, mis experiencias en los centros de belleza han sido tan raros como mis propias aventuras de tintura en casa.
Discolor my hair with the hope of get a platinium tone and end up with the most orange hair that ever ... That's the story of my life before I found the product that helped me get an impeccable blond, I remember the times I discolored my hair and see that result so "squeaky" just put me in the head, and no, hairdressers are not my thing, my experiences in beauty centers have been as rare as my own adventures of dyeing at home.
¿Un champú? ¡Sí! ¡Eso era todo lo que necesitaba! /
Purple shampoo? Yes! That was all I needed!
Chicas, no hay algo más impresionante para lograr un cabello rubio plata de 10 que un
¡champú morado matizante!
El resultado se nota en la primera aplicación y créanme, VALE LA PENA adquirirlo. Es de hecho, la mejor compra que puedes hacer si llevas mechas o cabello rubio.
¿Cómo se usa el champú?
-En un recipiente de plástico mezcla un poco del champú con acondicionador
-Aplícalo en tu cabello rubio por mechones, asegurándote de lograr uniformidad. Usa guantes para que no manches ni reseques tus manos y lleva ropa de casa que puedas manchar. (tu cabello debe estar seco antes de la aplicación)
-Déja actuar durante unos 5 minutos. (si tu acbello es muy blanco debes reducir el tiempo para que no te quede morado, pero si tienes el cabello como rubio naranja o dorado déjalo por los 5 minutos, igual debes ir notando el cambio)
-Retira con agua (te sugiero que te laves el cabello el día anterior para que al retirar la mezcla no uses champú y el resultado sea más duradero)
Este método puede utilizarse cada vez que notes que tu cabello comienza a perder el tono matizado. Yo, como me lavo el cabello muy seguido, lo uso cada dos semanas o incluso una vez por semana, pero no te preocupes, esa frecuencia la irás decidiendo según cómo te resulte.
Girls, there's something more impressive to get a 10-silver blonde hair: purple shampoo! The result is noticeable in the first application and believe me, it is worth acquiring. It is in fact the best buy you can do if you have blonde hair. It works very easy, you apply it after washing your hair with some traditional shampoo without salt and you remove it with abundant water. This shampoo is purple because that tone neutralizes the orange and yellow chicken. You should use it once a week or when you feel you need to nuance a little bit
¿Dónde puedes comprar el champú morado?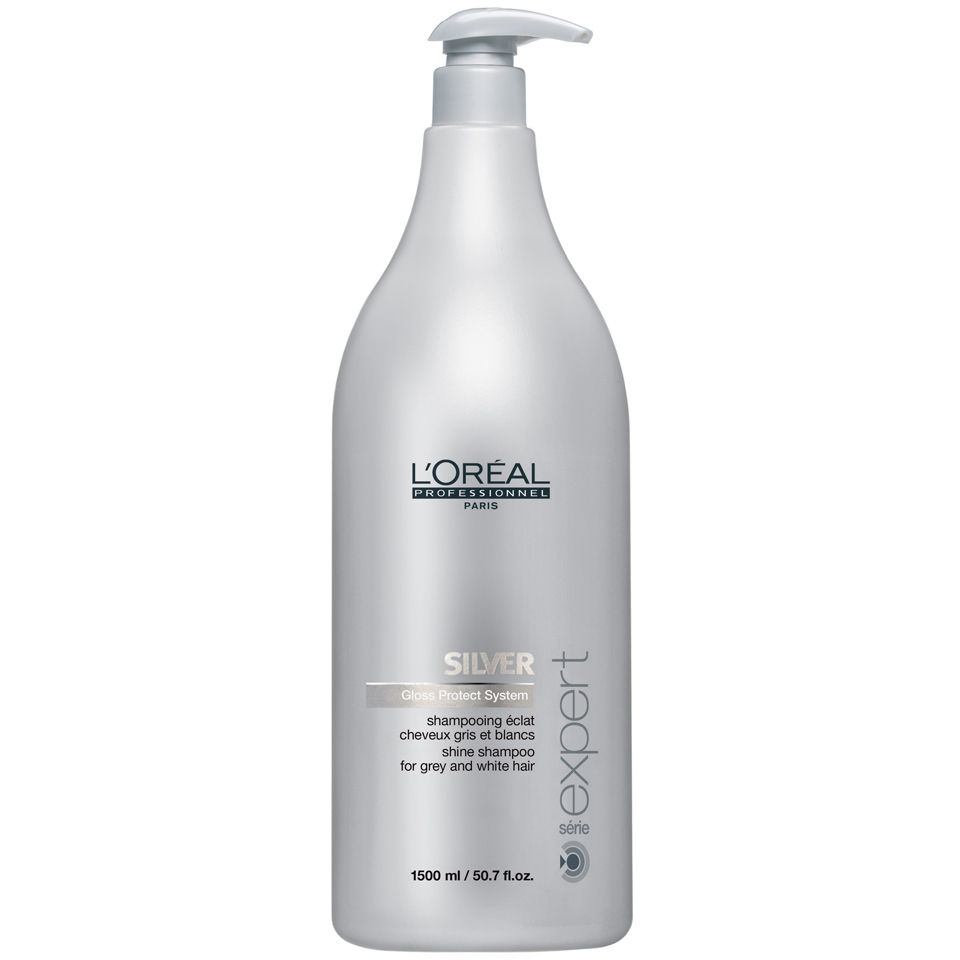 Si vives en Venezuela puedes encontrarlos principalmente en las marcas Loreal o Salerm (mi favorito) en cualquier tienda de cosméticos. En Maracaibo los venden en el CC Galerías Mall, Sambil y hasta en Súpermercados con apartados de cosméticos. En el exterior se consigue mucho más fácil el Loreal.
OUTFIT OF THE DAY
Mi look para hoy es súper cómodo y girly: una
denim overall
con esta hermosísima
sweatshirt
floreada muy apropiada para esta primavera. En cuanto la vi en
Rosegal
me decanté por ella. ¿No es hermosa? Desde luego, no podían faltar mis gafas y un choker. Espero que este post les haya sido de mucha ayuda, las espero en una próxima publicación, ¿vale? ¡Un abrazo! Pronto les enseñaré cómo tinturar el cabello de color fantasía sin dañarlo en absoluto.
My look for today is super comfortable and girly: a denim overall with this beautiful sweatshirt floral appropriate for this spring. As soon as I saw it on
Rosegal, I just fall in love. Isn't beautiful? They couldn't miss my glasses and a choker. So i hope you liked this post, girls! See you on the next post, have fun!